Pairi Daiza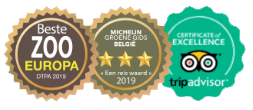 Parc Pairi Daiza has been elected as the MOST BEAUTIFUL PARC and BEST zoo of Europe 2019. You can't visit it in one day anymore. Stay overnight at half an hour away and enjoy a discount on your entry tickets ! Handy.
It is currently closed for winterstop. As from April 6 2019 the parc will be open again. Reserve your room now now for a carefree visit.
We will again foresee a nice discount on entrance tickets for 2019 ! You can add them to your booking later. In 2019, the parc will also be open from December 14, 2019 until January 5, 2020.
CYCLING PARADISE
Cycling in the Flemish Ardennes. Heaven! . With or without cobblestones. The legendary Muur and Bosberg at a stone's throw!
The Tour of Flanders at 4 km from the B&B.
Several professional riders know and regularly visit Hakuna Matata.
HIKING paradiSE
Eindeloos wandelen vanaf en in de omgeving van Hakuna Matata.